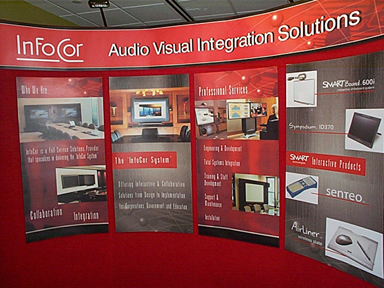 We deliver products and services that are unique and of the highest quality. You can get a basic sign anywhere, but at SIGN SYNERGY, we take the time to give you something that is well designed and effective. We specialize in trade-show graphics that highlight our creative design services. For examples of trade show displays and hardware we promote, simply click on the trade show display image to your left.
You say you need something a little more basic that delivers impact? Check out our many other samples. You'll notice a broad range of concepts and applications. With each project we work closely with our clients to meet their needs, always keeping in mind that it's our mission to provide solutions that energize your business...
Even when we close our doors and go home at night, we're still just a point and click away. Our Product and Services area provides you with with 24-hour access to our company. From here you can request an estimate, place an order, transfer a file, or review our product and service offerings, all from the convenience of your office or home.
We want to make the process of doing business with us as easy as possible. To get started, simply select your destination.